Auto
Splitter
Scan multiple photos then split, crop and straighten them automatically

Download AutoSplitter now!
Scan old photos to digital in Walgreens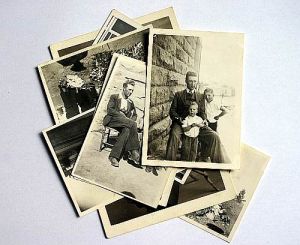 Every family has got lots of old photos - copy them to your computer. Some people look for the best photo scanning service and choose to scan these photos at Walgreens or digitize photos in Costco. What can you expect when scanning at Walgreens:

Up to 25 scans allowed
Only one photo scanned at once
Scanner glass is often smudged and this will reduce scan quality
You can perform minor edits afterwards - change contrast, saturation, auto-fix colors
You are scanning in a public space. Privacy of your photos is compromised
Easier way of scanning photos: AutoSplitter

We have a better idea.
Scan your photos with AutoSplitter photo scanning software
. If you have any kind of flatbed scanner, you are lucky. This software can speed up photo scanning by a LOT. You can load multiple photos into your scanner at once - typically 3-5 photos will fit in. Then you click scan and all these photos will be automatically separated and cropped into individual files. Some nice features you can enjoy:
Define DPI (dots per inch) scanning quality - I recommend 600 DPI for good results
You can choose the output settings: file type (jpeg, tif, png, and so on)
Images will be automatically color-corrected to restore vividity
One-click to rotate output images by 90° in any direction
Easily refine cropping area and angles for best results
Already pre-scanned some of your photos? No problem! AutoSplitter can open prescanned images in batch and separate them all
Digitize photos in a simple way

See this very short demonstration video below. As you can see, when scanning finishes, photos are automatically selected and cut out from the scanned image. Then the user rotates to the correct alignment on the right hand panel to have all photos upright. Colors are automatically improved, just compare the left hand panel - which shows the scanned image as-is - and the right hand panel's splits. They look so much better. "Save all" button writes all these images to disc and you're ready to grab the next batch of photos for scanning.
This is just the default mode of operation. There are several scanning modes available.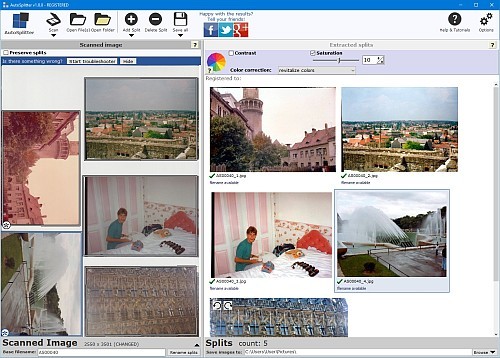 Autodetection: the method described above. The software will attempt to detect and crop all photos correctly. Best practice is to leave ~1 inch gap between photos and not line up their corners too much.
4 corners method: put one photo in each corner of the scanner's window. Then scan, and adjust results if necessary. Save all photos. Click "preserve splits" checkbox above the left side panel to pin all detected cropping areas for subsequent scans. Load 4 new photos into the corners and scan. You will not have to adjust detection again - the cropping areas will be reused, you can save all photos instantly and proceed with the next batch. And then the next batch and so on until you are finished. This only works if all your photos are the same size, but you can do a nice trick: group photos by size and scan all the similars in one go. Then untick the "preserve splits", allow the new size to be detected and then go back to the process described previously.
Manual cropping: you can even disable the auto-detection and auto-crop feature to let you cut out photos manually. This can be necessary if you are scanning photo albums with patterned background. This will prevent autodetection and will lead to false detections. In this case it's easier to do it all manually.
Batch detection of pre-scanned photos: as already mentioned, you can detect photos in batches from prescanned images. Can be really handy if you scanned your memory box 3-5 photos at once, but had no strength to crop them all manually. This happens quite often, don't despair. We can fix it :)
Do you still want to digitize your old photos in Walgreens? AutoSplitter is available for all Windows systems (including Win Macs), get your copy by clicking below:


Download AutoSplitter now!