Auto
Splitter
Scan multiple photos then split, crop and straighten them automatically
Already purchased?
Recover your account here.
New customer?
Scroll down or click here to register.
AutoSplitter offers a fast and effective method to scan your family photograhps. You can finally secure these precious photos and archive them to your computer, to a CD or DVD. Show these pictures to your relatives, be proud of your digital album! Just a final step to make: look at the available licensing options and decide which is the best for you.
Automated instant delivery to your email address.
License type:
BASIC

GOLD

A quick way to scan and crop your photos. Unlimited scanning. No watermarks, no time limit, scan any amount of photos. One-time payment for a permanent license.
Automatic retouching of your photos - revive colors of old photographs
Add text captions and/or text and date metadata to your photos.
Free support via our ticketing system
Household license: use a single license on all your PCs in the household
14 days no questions asked money back guarantee
Licensed software usable for unlimited time
Free updates period included in license. Access to new software versions for no extra charge during this period

30 days

2 years
Licenses are currently on sale for a limited time
Get 3 features in 1: Photo Scanning Auto Retouch Captioning & Metadata editor
$29.99


$19.99




One-time payment

$39.99


$29.99




One-time payment

Basic license
GOLD license
Register via PayPal (recommended)

All major credit and debit cards accepted. Prices displayed in US$.

Register via FastSpring

All major credit and debit cards and PayPal are accepted. Prices displayed in US$.
Note: May charge extra VAT in EU countries!
All licenses are
household licenses
: all Windows PCs in your household may run a copy.
Automated instant delivery
. You will receive a download link to the licensed version in your email used for registration. All licensing options provide
indefinite (permanent) access
to the purchased version. This is not a subscription based product, you receive a permanent license for a one-time payment.
Instant delivery via email
An automated email containing the link to your personalized Customer Care webpage will be sent out immediately upon purchase.
If you purchase directly through PayPal,
your registration will be emailed to your paypal email address
. Make sure you check that mailbox or enter that email address to
recover the purchase
link.
Download and install the registered version to work without watermarks.
The registration email looks like this: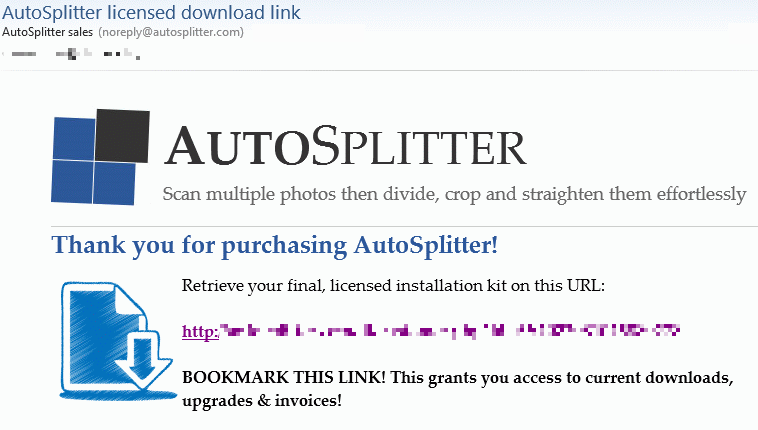 How to recover your registration information
Steps to find or recover your registration email:
Make sure your registration email doesn't end up in the junk mail folder. Sender is noreply@autosplitter.com - Remember, it gets delivered to the email address you supplied for the registration process. If you have paid via PayPal, it's gonna be delivered to your PayPal email address, be sure to check that mailbox.
Automatically recover your account here if the registration email has been lost.
Alternatively, you can Submit a support ticket to request assistance to recover your account. Make sure you can receive emails from tickets@autosplitter.com
Message us on FaceBook for the recovery information.