Auto
Splitter
Scan multiple photos then split, crop and straighten them automatically

Download AutoSplitter now!
Best way to scan photos
Do you want to know what is the best way to scan photos? Actually, it depends. If you have a flatbed scanner and a bit of free time then you can start scanning old photos immediately. If your budget is higher and you're not afraid to let go of your old photos, then you should probably use a photo digitizing service. Digitizing photos in the comfort and safety of your home is a great idea. But how do you do that quickly and efficiently? Use a photo scanning software of course. This software scans several old photos at once from your flatbed scanner and separates them to individual photos. These photos will also be automatically post-processed by digital image enhancement algorithms to get rid of fade. Your photos will be revived to let you enjoy them in good quality.

I'll quickly tell you why AutoSplitter is the best way to digitize old photos. These features all help you to scan old photos without hassle.
Scanning images
WIA and TWAIN interface to provide high degree of compatibility with almost all scanner devices.
Set scanning resolution (DPI). Higher resolution scanning takes much more time but they quality going to be amazing.
Full page scanning for traditional scan-into-file. Comes handy for document scanning.
Open prescanned images
Open a single previously scanned file to autodetect individual photos in the image.
Open multiple files or a folder full of prescanned image files and autodetect individual photos.
Detection and cropping of photos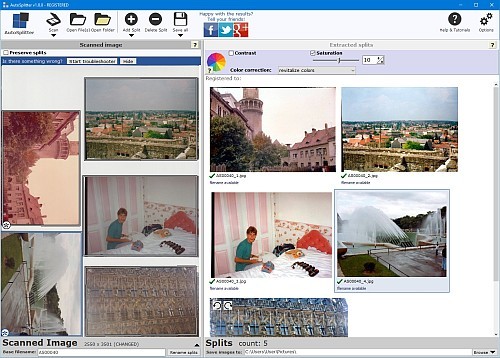 Very high autodetection rates under ideal conditions. Detection is quick even for large files.
Autodetect works with direct scans or prescanned files as well.
Autodetection can be disabled - might be necessary when autodetection is often really off due to bad conditions.
4 corner scanning: use the "preserve splits" option to reuse detected cropping areas for all subsequent scans. Ideal for repeatedly scanning photos in the corners.
Add or remove splits individually (manually) as you see fit. Duplicate splits to quickly create equal sized cropping areas.
Simple transformations
Adjust edges, rotation angles of detected photos.
Quickly rotate detected photos by 90° in any direction to restore proper orientation.
Flip photos horizontally of vertically.
Snap detected photo to horizontal.
Fine tuning options
Popup zoom feature: a small 100% zoom-in window will appear everytime you drag a corner or edge of a photo for adjustment.
Doubleclick a photo in the left panel to open a dialog to finetune rotation and cropping of the photo.
Zoom into output files before saving to make sure the quality is as desired.
Automatic retouching
Images can be automatically color corrected. Works wonders for black and white photos as well.
Adjust saturation and contrast based on preset values for all output files.
Image formats and saving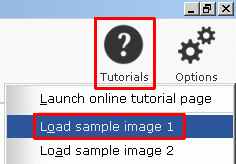 Read BMP, GIF, JPG, PNG and TIFF files.
Save GIF, JPG, PNG and TIFF files.
Define JPG quality levels.
DPI information is always preserved and saved with the output file (only applies to formats which support DPI information).
Output files are named automatically, but you can change the filenames.
One click to save all photos at once.
The software is easy to use - there are several video tutorials and sample images included to help you learn. Download and check out AutoSplitter photo scanning software now.


Download AutoSplitter now!