Auto
Splitter
Scan multiple photos then split, crop and straighten them automatically

Download AutoSplitter now!
Best way to scan a lot of photos
Do you want to know what is the best way to scan old photos? Actually, it depends. If you have a flatbed scanner and a bit of free time then you can start scanning old photos immediately. If your budget is higher and you're not afraid to let go of your old photos, then you should probably use a photo digitizing service. Digitizing photos in the comfort and safety of your home is a great idea. But how do you do that quickly and efficiently? This software scans several old photos at once from your flatbed scanner and separates them to individual photo files. These photos will also be automatically post-processed by digital image enhancement algorithms to get rid of fade. Your photos will be revived to let you enjoy them in good quality.
The process of converting old photos to digital copies is called scanning - you need a flatbed scanner to do that. Most families own this handy device, but usually it comes with bad software which is unable to speed up the process of scanning properly. Any scanner can be turned into the best scanner for photos with this photo scanning software. In order to copy your photos to your computer quickly you need to scan multiple photos at once. Put several photos on your flatbed scanner's window and scan. You will have multiple photos in one photo basically. This is where AutoSplitter steps in - it will automatically separate your scanned photos. This is the best way to scan a lot of photos.

I'll quickly tell you in a few paragraphs why AutoSplitter is the best way to scan old photos. All these features will help you to scan old photos without hassle.
Best photo scanning methods
If you decided to scan your photos, use your best judgement to choose your device. There are several ways to digitize your photos. These are the most useful ones to achieve great results:
Use digital cameras
Set up your digital camera on a tripod, tune lighting to properly illuminate your subjects. Remote control your shutter to avoid any camera shakes. Depending on your camera, you can achieve excellent image quality: highly exact colors, high resolution images. The downside is that digital cameras good enough to use as a photo scanner will cost a lot of money. Setting up the camera to stay still and be exactly perpendicular to the photos can be challenging. Photos must lie flat on the surface. This requires glass or acrylic sheet to be laid over your photos. Tuning the lighting is also difficult - you must avoid reflections. Both your photos and your transparent covers can cause unwanted reflections.
Photo scanning hardware
There are specific scanners made exactly with the goal of scanning photographs. Most of these hardware devices will pull your photo in, scan it and then release it. Many photo scanners can also process photo negatives as well. Using these scanners is easy and efficient. However you can't use these devices for much else, while you can use a camera or a flatbed scanner for many other goals as well.
Scan with flatbed scanners
Flatbed scanners are cheap and versatile. You can scan your photos, post cards, receipts, baseball cards and so on. You don't need to waste time on settig up the device like when using digital cameras. Just drop the photos into the scanner, start scanning and you're done. Most scanners will offer you very high DPI (image resolution) to provide high quality scans. Unfortunately most flatbed scanners lack proper auto cropping software to let you efficiently scan multiple photos at once and save them to individual files. This is where photo scanning software like AutoSplitter will help you greatly.
What is the best way to scan a lot of photos? It depends on your preference and budget. If you have a lot of time and money, digital cameras can be the best. If you want to save money and time while ensuring great quality, flatbed scanners are the best choice.
Scan multiple photos
The base idea of the software is quite simple: it will detect multiple photos placed on your scanner's document window and will crop them into different files, saving them to disk. Your default workflow is this:
1) place 2-5 of your photos in your flatbed scanner
2) close lid, click Scan in AutoSplitter
3) review and adjust detected photos (so called splits) in the software if necessary
4) click Save All to record all photo files to your computer's harddisk
5) repeat
AutoSplitter comes integrated with 2 standard scanning interfaces: both WIA and TWAIN have been implemented to provide high degree of compatibility with a large range of flatbed scanner devices. You can set physical scanning resolution of up to 1200 DPI. Higher resolution scanning takes much more time but the quality is going to be amazing. Of course you want the best possible quality when scanning your family photos. This software also offers full page scanning for traditional scan-into-file functionality for office use. Document scanning is easy. Supported devices: all popular brands supporting WIA and/or TWAIN interfaces. Bed size of up to A3. Scanners integrated into multifunction office printers should also work without problem. Wands, document feeder based scanning and commandline based file processing are not supported at the moment.
Extract photos from previously scanned image files
DOWNLOAD

Many people have already scanned in tons of their old photos and saved them into files to their computer. Often they have scanned several photographs in one image. Cropping all these photos and saving them to individual image files would take a lot of time and effort. With our software you can open a single previously scanned file to autodetect individual photos in the image. AutoSplitter has been developed with batch scanning functionality in mind. This also applies to processing of pre-scanned image files. This utility can open a whole folder of pre-scanned photo files at once. Multipage TIFs are also supported - handled exactly as if they were a folder. We let you select multiple files or a single folder full of prescanned image files and extract individual photos. The software will let you review all the automatic detection results and you will be provided an easy way of adjusting the cropping areas and digital post-processing to your liking before finalizing the images.
Detection and cropping of photos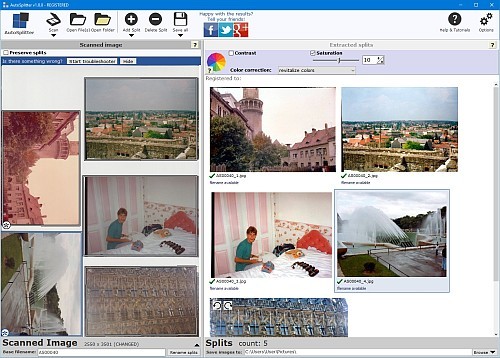 AutoSplitter has been created with flatbed scanners in mind. Place multiple photos on your scanner's document window and click Scan. You should see very high autodetection rates under these ideal conditions. Detection is quick - even for large, high DPI files you should be finished in a few seconds. Of course our autodetection feature works not only with direct scans, but with prescanned files as well. Autodetection can be disabled in the calibration menu - this might be helpful when conditions are far from ideal and autodetection makes a lot of mistakes. Many people just love the 4 corner scanning method: use the "preserve splits" option to reuse detected cropping areas for all subsequent scans. Ideal for repeatedly scanning photos placed in the scanner corners. You can always add or remove splits (detected photos) individually as you see fit. Duplicate and move splits to quickly define equal sized cropping areas. These 4 options are offered for bulk photo scanning:

Autodetect multiple photos in one picture - this is the default mode of operation. Put photos in scanner, click scan, click all save photos. Done, they are copied to your computer.
Reuse corners: this one is trickier. Put 1 photo in all 4 corners of your scanner, then scan. Click "preserve splits" option in AutoSplitter. This will remember where your photos had been located and assume that all subsequent scans will contain photos in the very same location and size. You can easily achieve 100% accuracy with this method, you just need to group your photos by size - scan the photos with identical dimensions in bulk.
Full manual cropping: if you have to scan photo albums with noisy background, you might need to highlight all photos individually yourself. You can turn off autodetection in the Options menu to assist this process.
Detect pre-scanned photos: some people already started to scan many photos but didn't know how to divide the scanned images into individual photos. Tons of images with several photos in them are waiting to be cropped. No problem, AutoSplitter can do that. Instead of using the scanner, you can open pre-scanned multiphoto images from your computer. You can even open a whole folder full of these images at once. Photos will be found and auto-cropped. You can review and adjust/confirm results afterwards. No other software can do this.
Simple transformations made easy
DOWNLOAD

Adjust edges, rotation angles of detected photos using your mouse. Just grab the corner or the edge of a detected photo and move the mouse to make adjustments. Quickly rotate detected photos by 90° in any direction to restore proper orientation. You will find this option in the right side panel of AutoSplitter. Mousing over detected, cropped photos will display quick rotation icons for all photos. Right clicking a detected split you can access an advanced feature menu. You can flip photos horizontally or vertically or snap detected photo to horizontal axis in this menu.
Fine tuning options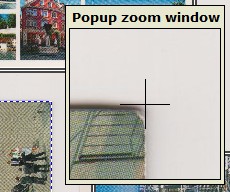 If these simple transformations aren't accurate enough for your desires, you can further improve cropping by a few extra features.
Popup zoom feature: a small 100% zoom-in window will appear everytime you drag a corner or edge of a photo for adjustment. This will let you quite accurately review the edges/corners of the cropping area. Doubleclick a photo in the left panel to open a dialog to finetune rotation and cropping of the photo. 4 corners of the photo will be highlighed under zoom and you can fine rotate the cropping area to achieve perfection. Zoom into output files to verify the results before writing them into file to make sure the quality is as desired.
Automatic retouching
Photos often fade out and yellow with age. This photo scanning software provides some great tools to combat damage done by time. Images can be automatically color corrected without any further action - just leave color correction enabled - this is the default option. Yellowed out color photos often revive miracolously, but it works wonders for black and white photos as well. Alternatively (or in conjunction with color correction) you can also adjust saturation and contrast based on preset values for all output files at once.
Captioning and metatagging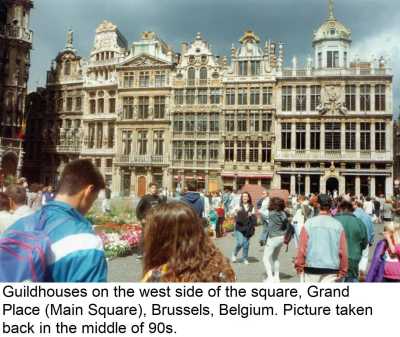 DOWNLOAD

By popular demand we have added captioning and metatagging feature for your saved photos. You can add text captions to your saved images. Define font size, type and color to add your own comments below the photo. It's very useful for slideshows - you can preserve even more memories with these captions.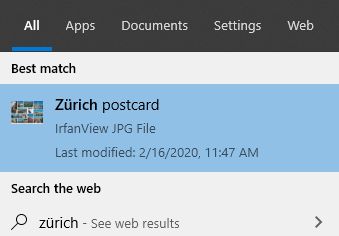 You can also save these comments into image metadata (EXIF, IDAT chunks). Metadata is invisible - you cannot see it on the image, but the text is recorded into the image file. Many image cataloging software will process these metatags to let you find or categorize your images easier. Windows itself will search inside these meta tags whenever you type anything into the Windows search bar. For example I've saved a postcard into a jpeg file with the metatag Zürich postcard and this is what I see immediately when I type Zürich into the search area.
Image formats and saving
AutoSplitter supports all popular file formats both as input and output.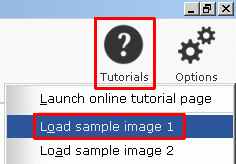 Open and read prescanned BMP, GIF, JPG, PNG and TIFF files. Multipage TIFs are also supported: open one file, autocrop all the pages at once. Save your auto cropped individual photos into GIF, JPG, PNG and TIFF files. Some formats have individual output features. You can define JPG quality levels. DPI and metatagging information is always preserved and saved with the output file (only applies to formats which support DPI information) - that is PNG, JPEG and TIFF. DPI information in image files lets you reproduce (print) these files in their original size at any time in the future if you wish. You can set up default filenames for generated output files. Mass rename option is available for your convenience as well. One click to save all photos at once.
The software is easy to use - there are several video tutorials and sample images included to help you learn. Download and check out AutoSplitter photo scanning software now. Stop worrying about your photo collection! Secure it against loss, theft, acts of nature. Photos fade out with time - but not when they are digital!


Download AutoSplitter now!