Auto
Splitter
Scan multiple photos then split, crop and straighten them automatically

Download AutoSplitter now!
Bulk crop images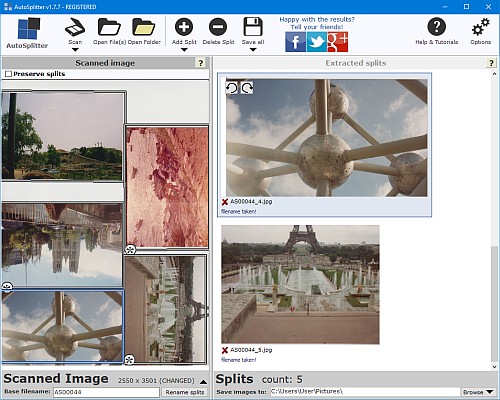 The best way to
bulk crop photos
is to use a photo scanning software like AutoSplitter. This program has been made with scanning in mind, but you can certainly use it to crop any other image as well. The software can recognize rectangular shapes over a uniform background and will automatically crop them and save to individual files.
AutoSplitter can open images containing multiple photos to crop them in bulk. You can stack all your images needing bulk cropping and this software can open all of these files in one click, autodetect every individual image and crop them. You can then review the result and adjust as necessary.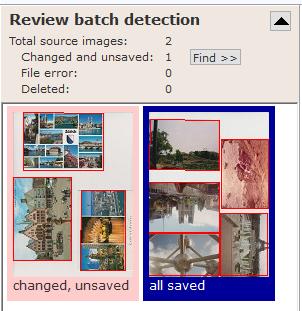 Bulk crop images
quickly and efficiently with AutoSplitter. Use this software to process scanned images of anything that is rectangular. Photos, baseball cards and so on. Many people scan photos in inefficient ways. They put one photo on the document window at once and scan it slowly. Then save the image, open it with an image editor software and try to crop it the best they can. Most image editors cannot make a skewed crop, people either settle with a crop where the photo is not straightened, or they cut off some of the photo to hide the nasty edges. AutoSplitter can crop your images accurately even if they are not completely straight - cropping can be fine rotated.
Also, it is more efficient to scan multiple photos at once - in bulk - as most scanners can fit 3-5 photos easily on the scanning surface. Why would you not use all the surface you have? Of course you want to. As you can see in the screenshot at the left, 5 photos have been fed into the scanner. They have been scanned together at once, then autodetected and cropped in a few seconds by AutoSplitter. If the user was happy with the results, saving photos takes just a single click.
Scan multiple photos
at once, finish earlier. The scanning DPI information is preserved inside the output images to make reproduction (printing) at the correct size possible.
The software has several features to further speed up your work. You can use the 4-corners method to scan: by enabling the
preserve splits
option you can skip the detection phase: always put your photos into the corners, detect their positions only once, then reuse these positions several times. You can also open image files that you have scanned previously with multiple photos in them. You can open many of these pre-scanned files at once.
Don't waste your time with software that hasn't been made with
bulk photo scanning
in mind. Use a powerful productivity tool like AutoSplitter to copy your old photos onto computer. Remember the 3 steps to scan photos quickly:
Bulk scan photos
Bulk auto-crop
Bulk save
Give AutoSplitter a spin and see how efficient it is.

Download AutoSplitter


Download AutoSplitter now!