Auto
Splitter
Scan multiple photos then split, crop and straighten them automatically

Download AutoSplitter now!
Best way to copy old photos to digital format: use a photo cropping software
The process of digitizing photos is called scanning - you need a flatbed scanner to do that. Most families own this handy device, but usually it comes with bad software which is unable to speed up the process of scanning properly. Any scanner can be turned into the best scanner for photos, you just need a photo scanning software. In order to copy your photos to your computer quickly you need to scan multiple photos at once. Put several photos on your flatbed scanner's window and scan. You will have multiple photos in one photo basically. This is where AutoSplitter steps in. This program is a photo cropping software, it's really good at dividing these images into separate photos. Copying old photos to computer in digital format becomes much easier with this utility. This is the best way to copy old photos to digital format.


Copy and save your old photos to computer
Prepare your memory box - these photos are finally going to be digitalized and saved to your computer. AutoSplitter has been designed to be user friendly and easy to learn. The user interface is clean, no useless options and no small cryptic settings to interpret before you can start scanning these photos. The software is so easy to use, we can show it quite perfectly in a 24 seconds video:
The idea is to automate the photo scanning process. Several photos can be scanned at once, this software will find the individual photos in the image and save them to separate files on your computer. Sometimes you will need to adjust edges of the pictures to make a perfect fit, but generally, if you follow the guidelines, you won't need much effort the get clean results. Digitizing photos is easy if you have the right tools. AutoSplitter can scan and crop photos in several different ways. All of these methods are easy to use.
Autodetect multiple photos in one picture - this is the default mode of operation. Put photos in scanner, click scan, click all save photos. Done, they are copied to your computer.
Reuse corners: this one is trickier. Put 1 photo in all 4 corners of your scanner, then scan. Click "preserve splits" option in AutoSplitter. This will remember where your photos had been located and assume that all subsequent scans will contain photos in the very same location and size. You can easily achieve 100% accuracy with this method, you just need to group your photos by size - scan the photos with identical dimensions in bulk.
Full manual cropping: if you have to scan photo albums with noisy background, you might need to highlight all photos individually yourself. You can turn off autodetection in the Options menu to assist this process.
Detect pre-scanned photos: some people already started to scan many photos but didn't know how to divide the scanned images into individual photos. Tons of images with several photos in them are waiting to be cropped. No problem, AutoSplitter can do that. Instead of using the scanner, you can open pre-scanned multiphoto images from your computer. You can even open a whole folder full of these images at once. Photos will be found and auto-cropped. You can review and adjust/confirm results afterwards. No other software can do this.
Fine-tune cropping area with popup zoom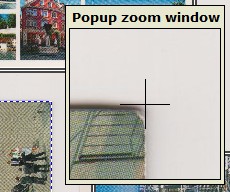 This feature is still in testing - it's going to be added in v1.8.5 at the end of 2017 or beginning of 2018. Whenever you adjust a corner or edge of a photo, a small popup window will appear showing a 100% zoomed-in view of the area to improve your precision.
Digitize old family photos to computer - best and fastest way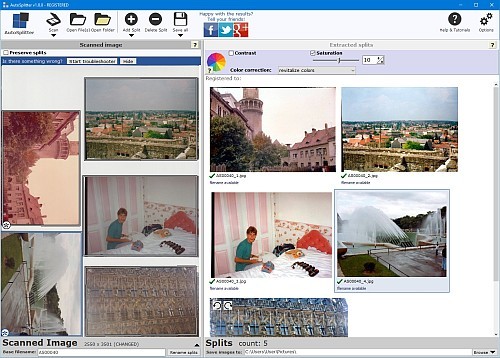 Save your family photos in any popular file format you want. Choose JPEG for efficient storage. Or pick TIF for lossless, perfect quality archival. DPI information is always saved to the file to make sure you can reproduce old pictures in print at the right dimensions should you decide to do so.
Adjustment of scanned and autodetected photos is easy. Just one click to rotate them clockwise or counter-clockwise by 90 degrees. Choose further transformations from the right click popup menu: mirror in any direction or snap to horizontal. Grab edges of detected photos to adjust the cropping area. Grab corners to fine rotate the cut. Shift+corner grab to resize 2 joined edges at once.
New feature in 2017: your digitized photos are automatically revitalized: colors come to life by digital image restoration. Experience these scenes in vivid colors once again after decades. You can add extra contrast and saturation to the digitized pictures if you wish. As you can see on our screenshot, faded, yellowed out pictures are much more colorful after scanning.
Download free to try:


Download AutoSplitter now!