Auto
Splitter
Scan multiple photos then split, crop and straighten them automatically

Download AutoSplitter now!
Multiple photo scanning software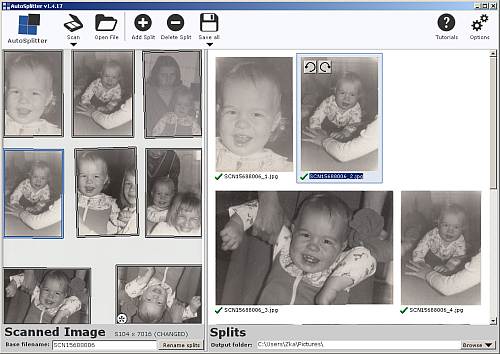 Stop worrying about your photo collection! Secure it against loss, theft, acts of nature. Photos fade out with time - but not when they are digital! You are here probably because you have already started to
scan in your photo collection
or you are contemplating the idea. This is the
best way to scan pictures onto computer
. It is a long and painful process without some kind of help.
Scan photos, crop them
, waste time finding the right angle to
straighten the cropped photo
- it all takes a lot of effort. AutoSplitter was invented and designed to
simplify scanning process of pictures
.
Multiple photos can be scanned at once
with this Windows untility. Pictures will be recognized automatically and you can save them instantly to
individual files
. You also have the option to adjust or highlight photographs one-by-one manually. Software requirements are simple:
* a PC with Windows XP/Vista/7/8.1/10
* an intel Mac with Windows
* any kind of flatbed scanner - multifunctional scanners work as well

Download AutoSplitter - scanning multiple photos is easy

Download AutoSplitter now!