Auto
Splitter
Scan multiple photos then split, crop and straighten them automatically

Download AutoSplitter now!
Scan multiple photos and crop them automatically with this software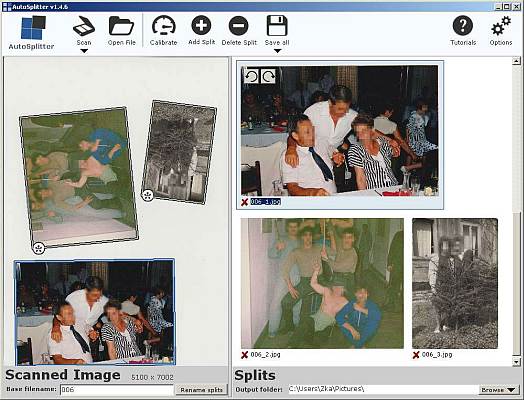 If you have ever struggled with
scanning multiple photos and cropping them
, you are in the right place. Scan multiple photos to individual files with this software quickly and efficiently.

AutoSplitter is a
scan and crop software
that was built for just this task. In the summer of 2012, I have received a big cardboard box full of old family photos from my mother. I have seen it before, but this time I wanted to
digitize them for eternity
. I wanted my daughter to see them we she'll be a young parent. I wanted her to show the photos to my grandchildren. So I started to
scan and crop photos
manually, one-by-one. Later on I learned that my
flatbed scanner can divide and crop scanned images automatically
. My discovery quickly turned into disappointment when the scanner software kept on failing. No splits at all. Nice bride split in half. (OUCH!) Partial splits. There was no manual adjusment possibility, so I was forced to give up.
There must be a software for this! I've started googling but in vain. I could not find such software. I really liked the idea and being a software developer myself, I have started creating my own
photo splitter utility
to auto crop pictures. Months have passed, and here is the product. I hope you will have success
separating your photos
with it and your grandchildren will see how your family lived decades ago :)
A quick list of features:
Scan directly from your scanner or open previously scanned images.
Software will detect individual photos automatically and crop them into separate files.
Choose various fileformats for saving images.
Easy, intuitive interface to finetune detection results.
Fine rotate, adjust edges, corners and zoom factor of all detected photos.
Automatic color correction of photos - faded, yellowed images will once again be full of life. Works wonders with black and white photos as well. Adjust contrast and saturation of photos for better results.
Have a large bunch of pre-scanned photos? No problem, AutoSplitter can open a folder full of these images at once and autodetect everything. Then you can review and adjust results.
Traditional full page scan feature included to let you scan documents.


Download AutoSplitter now!