Auto
Splitter
Scan multiple photos then split, crop and straighten them automatically

Download AutoSplitter now!
Error during scan or file load

Submit a support ticket in case you need technical assistance.
This is a general troubleshooting page for the product.
---
Error during scan

If an error is raised before the scanning progress bar disappears, please try to
select another scanner interface
, if available. Most systems are able to scan through 2 protocols. One is called WIA, the other is TWAIN. AutoSplitter supports both scanning interfaces, but unfortunately on some systems only one of them is reliable. If both interfaces are available on your system, you will see your device listed twice under 2 similar names. Try both devices.
Please check the website of your scanner's manufacturer. Your scanner driver might be outdated, installing the most recent version may help.
If your scanner connects via wifi, try to make a direct link through cable.
Scan is grainy
See the advice above. Try other scanner sources if possible.
GDI error under Wine
If you are using the software under
Linux or Mac with Windows emulation
, please make sure you have a 32bit GDIplus (GDI+) library properly installed.
Winetricks
may help you. As a workaround, you can revert to v1.11.1 or earlier. GDI+ has been used since v1.12.1 - older versions do not require this library.
Scanner not found
When trying to scan "
Device XXX not found!
" error message appears. Possible causes: 1) Scanner has been replaced or offline. 2) Compatibility issue in config file - should not happen unless the program version has changed between trial and purchase. In both cases,
re-selecting the scanner
should fix the problem. If that does not help, please exit the program and locate this folder:
C:\Users\User\AppData\Roaming\Chimera\AutoSplitter
Delete file
AutoSplitter.ini
and restart the program.
Cannot select desired DPI
WIA scanning protocol is limited in terms of available DPI settings. Please try to scan through TWAIN protocol, if available.
Error when finishing scan or when opening large file(s)
The software is using a lot of memory during photo detection. This can lead to problems, but there are some workarounds.
- Downsize input files to fit into 50 MB or less
- Reduce scanning DPI to 600 or less
- Empty your Windows TEMP directory. Check out
this article
to see how.
- Try adjusting Windows memory heap size
as described in this article
. I recommend a setting of 20480.
Warning!
This is risky, mistakes during this procedure can break your system.
- If you are running version 1.6.5 or earlier, try upgrading to 1.7.0 or higher. Memory handling has been greatly improved in this release.
Error when saving files
- Please make sure you have write privileges to the output folder.
- Run the software as administrator.
- Your disk might be full.
- Your antivirus software might be blocking write access. Try disabling the antivirus temporarily to verify this.
- Try saving files in another format.
Output files have wrong or missing DPI information
DPI information of a digital image
does not affect its quality at all
. This number can be useful if you want to print the digital images. If the DPI is correct, the photo will be reproduced in the correct size.
Prior to v1.7.6 only JPEG output files held DPI information. This has been improved in v1.7.6 - JPEG, TIF and PNG files saved by AutoSplitter should hold DPI information now. For other formats this is not supported.
Error when opening files
If your system uses non-english file- or folder names,
incorrect locale settings
can cause trouble.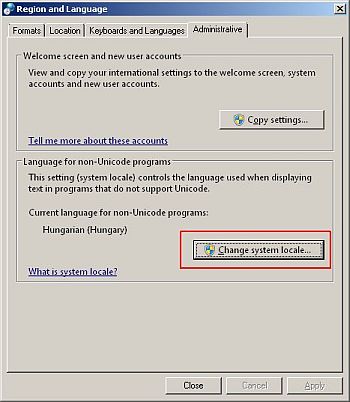 Please try to change your system locale to the correct (non-english) one, for example if you are using hebrew filenames, change to hebrew.
- Open your
Control Panel
- Start the
Region and Language
applet.
- Click
Change system locale
button on the
Administrative
tab.
- Choose the appropriate language and restart AutoSplitter.
See Microsoft's description on
how to find this setting in Windows 10
.
If none of these information helps, the file might be corrupted or locked by another program.
Error during/after opening multiple pre-scanned files at once

When AutoSplitter isn't shut down properly or encounters an issue during batch detection of pre-scanned photographs, sometimes it will refuse to start up properly and/or you cannot exit Batch Review mode. This is fairly easy to fix.
- Exit AutoSplitter
- Go to
%AppData%\Chimera
(paste this into the address bar of File Explorer or your Start Menu/Run input box)
- Delete the folder AutoSplitter with all its contents
- Restart AutoSplitter
This issue has been fixed in version 1.7.5.

Download AutoSplitter now!